Thrift shopping- is it unethical?
Over the past few years, thrifting has become incredibly popular amongst teenagers and young adults due to the recent retro/vintage clothing craze, as well as the affordable prices, and the many other environmentally friendly and sustainable aspects of the practice. However, along with this trend has come a surprisingly overwhelming amount of controversy (particularly online) regarding the ethics of this form of shopping. Many are beginning to question whether the gentrification of thrifting has made second hand buying inaccessible to lower income communities and whether it promotes and encourages environmentally harmful activity such as over consumption. But is second-hand buying really as unethical as some claim it to be?
The recent gentrification of Thrift shops
Thrift shops are not a new discovery, but gen Z is treating it like one.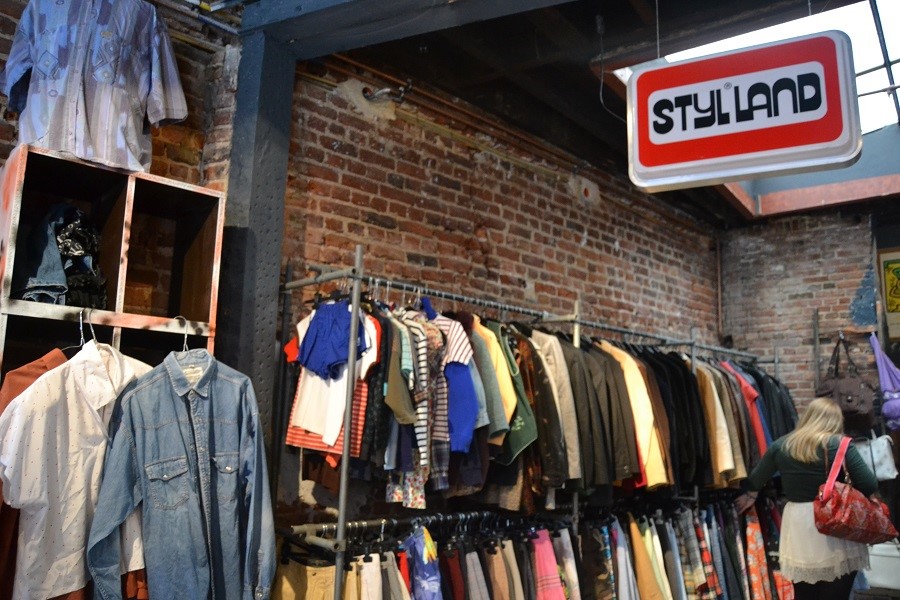 Second-hand stores have quite literally been around for centuries. In fact, the "Salvation Army" (a popular American thrift shop) started collecting donations in 1897, with the intention of providing food and housing for homeless men. Here in Europe, more precisely in Belgium, one of the first secondhand stores called 'petit Rien' was founded in 1937 to create jobs for men who would collect, sort through and re-sell second-hand items together. 10 years later in 1947, the U.K set up their first charity shop in Oxford called 'Oxfam' to raise funds to relieve famine in Nazi-occupied Greece.
Although originally intended to raise money for charitable causes, thrift shopping has undergone something of a gentrification process in recent years, making it one of the "trendiest" forms of shopping today. From Angelina Jolie's iconic 26 dollar thrifted red carpet dress (2008) to Macklemore and Lewi's hit single 'thrift Shop' (2013) to Jane Fonda's announce that she is "never buying any new clothes again" (2020) to popular influencers posting "come thrift with me" videos on platforms like YouTube and TikTok (today), it's fair to say that thrifting has become more gentrified and has truly revolutionized today's fashion industry.
There are currently more than 25,000 thriftshops in the United States, over 9,000 in the UK and Ireland and 27 Petit Rien located here in Belgium, as well as hundreds of other thriftshops, 'friperies' and 'kringwinkels' across the country.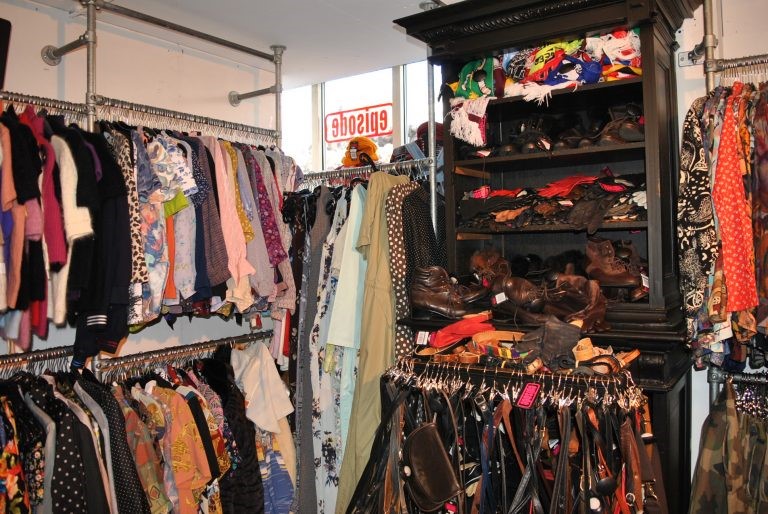 To further investigate the extent to which this thrifting craze has affected the secondary pupils at EEB1, I decided to organise a poll on my instagram story with the title 'do you own any thrifted items in your closet' in which my instagram followers were given the choice of pressing either "yes" or "no". The results are not surprising: 93% answered 'yes' and only 7% answered 'no'. Given the comfortable background of many people in our school, it's clear that here in Belgium, the gentrification of thrift shopping is a reality as well.
So, is this process harmful to lower income communities?
The recent gentrification of thrift shopping has made second-hand buying attractive to a whole new world of costumers: middle- and upper-class communities.
Many are beginning to criticize these middle- and upper-class customers who have suddenly started purchasing from second-hand stores for their so-called opportunism and classism. Some believe that those who are financially comfortable enough to buy elsewhere should not shop at thrift stores intended for lower income communities, just because it is currently "trendy". They claim this to be an indirect form of "taking away from those in need".
They are also heavily criticized for their tendency to buy second-hand items in bulk, with the intention of reselling them at much higher prices on platforms such as Depop and Vinted, to create a profit. These "Depop girls" are said to contribute to the recent rise in prices of items in thrift stores because they supposedly buy such obscene amounts of clothing at once that there is simply very little left in the stores… and when there is little clothing left, the prices of the remaining items deemed "rare" must go up to compensate for the lack of clothing stock. This rise in prices is making thrift shopping inaccessible to lower income communities who are no longer able to afford it.
Is there any evidence to back up the argument that Depop girls are the sole cause of thrifted item prices going up?
In the United States for instance, it has indeed been reported that Goodwill prices have recently gone up.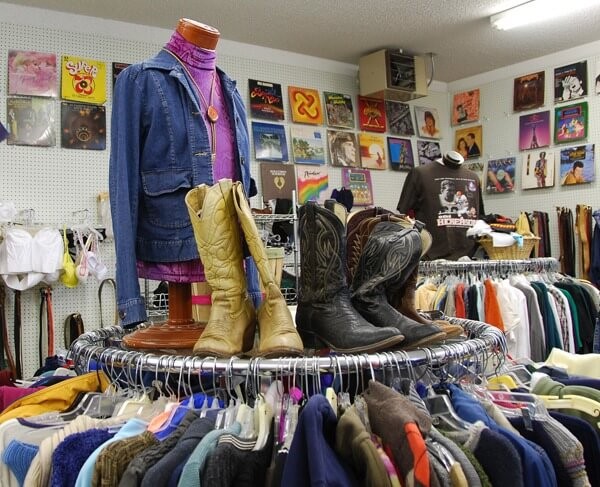 This would then appear to feed into the "taking away from those in need" narrative because it shows that the recent gentrification of thrift shopping has indeed, made secondhand shopping inaccessible to lower income communities. However, there is little evidence to suggest that price rises are a direct result of middle-class bulk buyers.
In actual fact, this is highly unlikely for one very simple reason: U.S thrift stores have an insane abundance of clothing. Studies have shown that only 20% of clothes donated to thrift stores in the U.S are actually sold! There is no shortage of stockage, and donations are continuously being made to thrift stores across the U.S. This is particularly the case given the rise in popularity of the minimalist lifestyle promoted by people like Mari Kondo who encourage people to get rid of and donate clothes that we no longer need (or like Marie would like to say 'no longer spark joy').
Instead, these new high prices could well be just the result of corporate greed. Perhaps, Steven C. Preston (The CEO of Goodwill) caught on to the thrifting trend and decided to raise the prices of items in order to make more money for himself, rather than to compensate for the shortage of clothes? (which simply doesn't exist). Despite the fact that Goodwill is labeled as a non-profit organization, Steven C. Preston has a salary of 730,000 dollars… all while paying certain disabled employees less than 1 dollar an hour.
How about here in Europe?
Even though the prices of thrifted items may be increasing in the United States, here in Belgium we have not witnessed such a rise in prices.
This is because there is an unspoken about segregation that exists between secondhand stores that are targeted at lower-income communities and those aimed at higher-income/middle class communities. In Belgium, this recent gentrification of thrifting has led to the creation of new 'higher end' secondhand stores rather than any change in already existing ones which were originally intended for poorer people.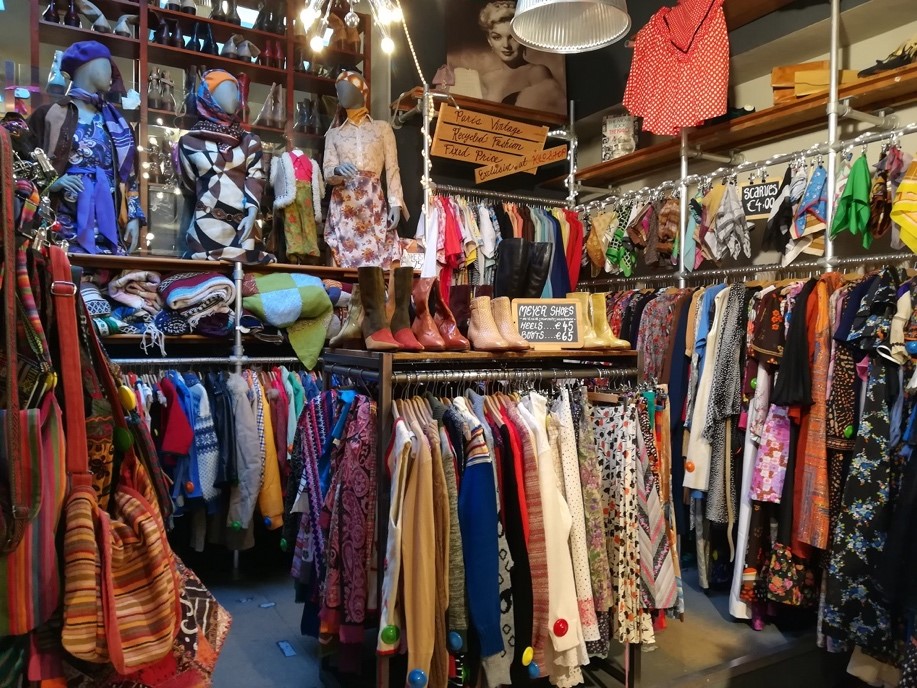 A good example of a non-profit, charitable organization that caters towards low-income communities founded in Belgium is the 'petit riens' store. This charity collects clothes that are no longer worn and resells them at reasonable prices which are affordable for low-income communities. All profits are invested directly into initiatives that fight poverty.
At the other end of the scale, there are also a large number of 'higher end' thrift stores which cater towards higher-income communities, in Brussels such as Episode, Think Twice, Bison 4, or even the melting pot kilo shops. These thrift stores resell 'selected vintage items' as opposed to any old, donated clothing items, which in theory justifies the higher prices. These secondhand stores are marketed towards richer communities and are often found in trendy, gentrified neighborhoods such as the Marolles area.
However, this does not mean that the two sub-groups of thrift stores and their target audiences are mutually exclusive. Higher income communities do shop from the petit rien stores for example, which explains why you can find a petit Rien store in Marolles on rue haute. Yet even though upper-middle class shoppers do occasionally buy from 'charitable' thrift stores, they cannot be said to be "taking away from those in need" as the prices of items in these stores continue to remain affordable to the lower-income communities for whom they were intended.
Are there any negative repercussions to this segregation between higher end and charitable thrift shops?
One of the many perks of thrifting was that lower-income communities were able to purchase good quality items for low prices. This enabled them to spend less money on clothing because, in the long run, good quality items would not need mending or replacing.
Some are claiming that higher end thrift stores are selecting all these "good quality" second-hand items to resell at higher prices in their stores. This is a similar concept to the "Depop girls" one in which people are being accused of indirectly "taking from those in need".
This means that lower income communities are increasingly buying from more affordable, fast fashion stores such as "SHEIN" or "Aliexpress" which are not only bad for the environment, but their items are also not made to last for long periods of time, hence the name given to these sorts of brands. This means that lower income communities are having to spend more money on clothing in the long run because their 'bad quality' items will need mending or replacing: It's a vicious circle.
However, there is very little evidence to support this claim that higher end thrift stores have more "good quality items" than charitable ones. It's a difficult concept to prove… how does one quantify this? Look at the stitching on every t-shirt? Check the percentage of polystyrene on every label? Perhaps it's not as black and white as some may believe it to be…
Nevertheless, given the insane abundance of donated clothing, I don't believe that a supposed minor decrease in 'good quality' items is a valid enough argument to claim that thrifting, as a whole, is unethical.
How have influencers impacted the environmental ethics of thrifting?
Throughout the course of this past decade, Influencers and youtubers have undoubtably helped normalize secondhand shopping, but they have also helped encourage overconsumption too.
It's no secret that thrift shopping has been viewed as an undesirable form of shopping for many, many years. It was deemed "dirty", "unhygienic", "for the poor" and "outdated" for reasons which date as far back as the late 1900s. Back then, used clothes were often sold by Jewish immigrants who had to find creative ways of making money because the anti-Semitic environment they lived in, often prevented them from any other employment. This prejudice rubbed off on their business, resulting in satirical stories being written about their unhygienic clothing such as the 1884 "Saturday evening post" issue about a girl who got smallpox from a dress she bought from a Jewish-owned resale store.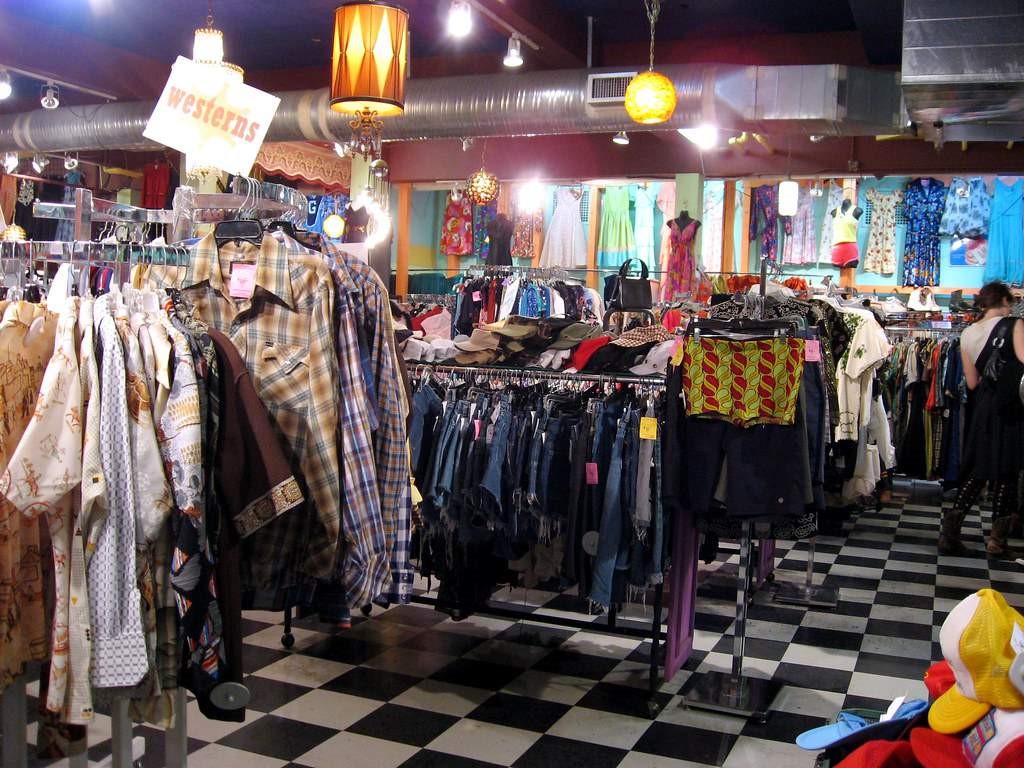 This idea was still prevalent 30-40 years ago. When I asked my mother, who grew up in Communist Poland in the 1980s, about what thrift shopping or buying from "Lumpeksy", was like back then, she told me that it was heavily looked down on. She explained to me that given the political circumstances, there simply weren't very many unique or interesting clothing options available for young people to buy, so those who wanted to stand out from the crowd had to shop at these second-hand stores because they were ultimate the only shops which offered remotely unique pieces. However, even though there was very little high fashion available in communist Poland, that didn`t mean that thrifting was socially acceptable. On the contrary, it was viewed as an embarrassing, desperate and lower-class thing to do… Much the same as what people were saying about second-hand shopping almost a century earlier in the States…
A lot has changed since then. The stigma around thrifted clothing being "dirty", "unhygienic", "for the poor" and "outdated" has disappeared among Gen Z. This is partially thanks to Youtubers and influencers such as @EmmaChamberlain (10,1M subscribers) @Bestdressed (3,7M subscribers), and @Marla Catherine (1,1 million subscribers) who have been normalizing and promoting shopping second-for the past 5 years or so on several social media platforms but predominantly on YouTube. These promotional videos have names such as "come thrift with me", "how to thrift like a pro" or the recently made controversial ones: "thrift hauls".
Despite their important contributions to the popularization and normalization of thrift shopping, these Youtubers are beginning to receive hate when it comes to their "thrift hauls". Many claim that they are promoting bulk buying and the infamous "it's only one dollar/euro, I may as well buy it" mindset. It's understandable to claim that just because an item is "cheap and cheerful" does not mean you ought to buy it, which is something that Emma Chamberlain, Ashley or Marla have, intentionally or not, often promoted in their videos.
Of course, that's not to say that we should never thrift items which are outside our fashion comfort zone because one of the beauties of thrift shopping is exactly that: being able to buy something that you wouldn't normally want to spend so much money on. I do believe, however, that we should try to not overconsume on these "experimental items" and make an effort to only buy what we really need or really want. So, with that in mind…
What can you do to thrift shop as ethically as possible?
Taking into consideration everything that we have discussed in this article, from: location, to charity shops, to overconsumption, I have put together a list of four small changes, that I recommend making when thrift shopping in order to ensure that you are thrifting as mindfully and as ethically as possible.
avoid buying items such as winter coats, hats, scarves, gloves, good quality clothing, children's clothing, plus-size clothing and work appropriate/smart clothing from secondhand stores found in or targeted at lower income communities, because they are often difficult to purchase at low prices and are often in high demand.
when possible, shop at higher-end thrift stores, or secondhand shops found in richer neighborhoods rather than ones found in and targeted at lower-income communities, to avoid potentially "taking from those in need".
be more self-critical. When buying something ask yourself if you really need it and whether you really want it to avoid unnecessary overconsumption.
try buying more timeless items that you will be able to re-wear and match with more outfits for longer periods of time, rather than buying trendy items which will eventually go out of style and will end up sitting in the bottom of your closet, to reduce waste and unnecessary overconsumption once again.
Conclusion
To summarize, I do not believe that thrifting is unethical. Of course, I understand that there are aspects of it which aren't as ethically conscientious as they could be, such as shopping exclusively in low-income areas or the tendency to overconsume. I do, however, think that – as much as it is virtually impossible to shop 100% ethically in today's capitalist society – thrifting is nonetheless by far one of the best and most equitable, environmentally friendly, workers' rights conscious and sustainable forms of consumption out there. After all, how unethical can recycling really be?
My personal favourite thrift shops that you should check out in Brussels/Belgium 🙂
– melting pot kilo shops (Hoogstraat 154, rue haute 178)
– Foxhole Vintage St Géry (Rue des Riches Claires 4)
– Episode (Rue de la Violette 28),
– Think Twice (Spoormakersstraat 51 Rue des Éperonniers, and oude graanmarkt 57 Brussel),
– Bison 4 (rue des teinturiers 4)
– Oxfam Shop Marolles (Rue Haute 214, )
– Docks Caviar (Rue de Flandre 70)
– Les Petits Riens (Rue des Fripiers 11, 1000 Bruxelles)
– Thrift Store (Pl. Fontainas 24 · near the Manneken Pis)
Rose Van Lierop / S7enb / EEB1 Uccle