Supporting Exploited Thai Women in the Long Run
Have you ever seen 200 children race like a bolt of lightning? Most people would reply « no ». Well on the 25th of October, children from ages 11 to 12, contributed 1€ each and participated in the charity Long Run across the European School of Brussels. We weren't expecting anything spectacular, just a group of first year secondary students from our school collecting a symbolic amount of money to help a cause. Nothing particularly out of the ordinary. However, as we arrived there, we were soon proved wrong.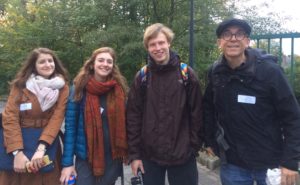 The representatives of Oasis Belgium (the organisation responsible for the money gathered), were very keen to share with us the goal behind this run. Evie, a young intern, explained that Oasis were currently managing a project called the Welcome Project. This project helps exploited Thai women working in the most conventional massage parlours across Belgium. Who would've ever known that your local parlour hires desperate women in the worst conditions? Evie clarifies that their goal is to « visit, advise them and help them organise themselves with social services« . She also recounts that a lot of times it is very challenging to reach these women as the massage parlours do not appreciate their visits and « shut the door » at them.  
Phil, another manager of the project, pointed out to us how this project has raised awareness around the Thai community in Brussels, people are more informed about violence against women and domestic abuse. Their goal? To reach marginalised minorities whose need for help is not always that obvious.   
The run was actually quite inspiring, I truly got the sense, as the children dashed by, that no matter the age there would always be someone willing to help others in need. Well done to all the runners and organisers, such as Mr. El Yousfi, Mr. Louarn and Mrs. Urbanek for accomplishing such a successful project! 
To discover more information about Oasis, visit oasisbe.com  
Rosemary C. / S5 / EEB1