Model United Nations of Munich 2017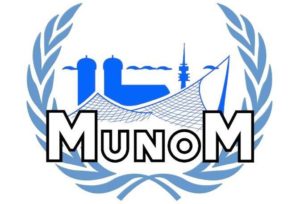 MUNOM 2017 was an unforgettable journey of 13 students with the guidance of Mrs. Rydsa and Mr. Tomitz, that surpassed our already very high expectations in all aspects.
Our school had the honour to represent the delegation of France, which had a seat in all assemblies, as well as 3 journalists. We have arrived a littlebit late to the venue, which this year was the Forum der Zukunft, missing the opening speech and a session of lobbying, however we were on time for the opening speeches held by the security council members. Our delegation, for reasons that remain a mystery even today, did the speech of Iran along with France's one. After that, further lobbying ensued, in order to get at least 5 country representatives to co-submit our resolutions. Following this, we went to our amazing host families, got to know them and had a nice long rest before tomorrow's discussions.
The next day we went to the European School of Munich, where further lobbying ensued. After a proposition got enough co-submitters, it was submitted for evaluation. In GA1 an amazing 14 resolutions passed the evaluation, meaning they would all be discussed. Or so we thought, but we ran out of time. Nevertheless, all assemblies had very fruitful discussions, all assemblies passed at least one resolution. Meanwhile the press was working hard on their articles and publications. We also had lunch in the school, which was surprisingly good!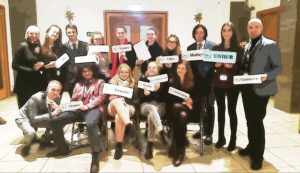 EThere was also a huge party organised by the MUNOM staff, just for the attendees of MUNOM. The organisation and the club was amazing, I think I can speak for everyone when I say I enjoyed it. All went relatively smoothly, even the teachers enjoyed themselves.
The next day we met again in the Forum der Zukunft, where we voted on all resolutions that passed in the assemblies. Many interesting things happened in all councils, to say the very least. After that a politician held a speech, followed by the MUNOM staff, chairs and the founder of the MUNOM, for whom it was the last year ever taking part in organising MUNOM, after having organised it for 14 years. We all said our good-byes, to all our newly made friends and left for the airport, tired but fulfilled and happy.
All in all, the MUNOM experience is something I would surely recommend to everyone, it is simply amazing. Big thanks to the organisers and the teachers, who made all of this possible!
Text: Leo N. (S7 HUA)